HUBUNGAN ANTARA MINAT MENJADI GURU DENGAN PRESTASI BELAJAR MAHASISWA
Abstract
Abstrak: Prestasi belajar merupakan hasil akhir usaha belajar. Prestasi belajar bisa diukur melalui simbol angka. Pada tingkat perguruan tinggi, prestasi belajar bisa dilihat berdasarkan indeks prestasi kumulatif (IPK). IPK dengan kategori pujian menjadi tujuan semua mahasiswa. Prestasi belajar sangat mempengaruhi hasil lulusan sarjana yang berkualitas. Hal itu termasuk dalam fungsi prestasi belajar, maka diperlukan pengetahuan untuk mengetahui faktor apa saja yang memberikan sumbangan terbesar. Minat menjadi guru merupakan faktor instrinsik yang penting dalam prestasi belajar mahasiswa pendidikan geografi Universitas Negeri Malang. Penelitian ini bertujuan untuk mengetahui hubungan minat menjadi guru dengan prestasi belajar mahasiswa. Rancangan penelitian kuantitatif menggunakan eksplanatory. Hasil analisis menggunakan uji korelasional menunjukkan nilai signifikansi sebesar 0,000. Jadi nilai signifikansi 0,000 < 0,05, maka H0 ditolak. Hasil analisis korelasional diketahui bahwa 0,465 yang berarti ada hubungan minat menjadi guru dengan prestasi belajar.
Kata Kunci: minat menjadi guru dan prestasi belajar
Abstract: The learning achievement is the end result of learning effort. The learning achievement can be measured through number symbols. At the college level, academic achievement can be seen based on grade point average (GPA). CPI by category compliments the goal of all students. The learning achievement greatly affect the outcome of qualified graduates. It was included in the function of learning achievement, the necessary knowledge to determine what factors contributed most. Interest in becoming a teacher is an intrinsic factors that are important in the achievement of students of geography education, State University of Malang. This study aims to determine the relationship of interest to be a teacher with students' achievement. Quantitative research design using explanatory. Results of analysis using correlation test showed a significance value of 0,000. So the significance value 0,000 < 0,05, then H0 is rejected. The results of correlation analysis known that 0,465 meaning there is interest in becoming teachers with academic achievement.
Keywords: interest in becoming a teacher and learning achievement
Keywords
nterest in becoming a teacher; learning achievement
DOI:
http://dx.doi.org/10.17977/jpg.v21i2.5908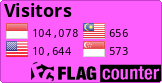 Jurnal Pendidkan Geografi is licensed under a Creative Commons Attribution-ShareAlike 4.0 International License. View My Stats